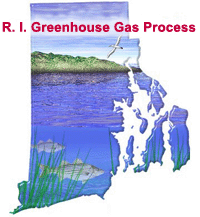 Rhode Island Greenhouse Gas Process
The Rhode Island Greenhouse Gas Process (RI GHG) represents a unique effort on the state level to reduce the greenhouse gases that cause climate change. RI GHG successfully formulated a Greenhouse Gas Action Plan for the state of Rhode Island in 2002, and has continued meeting to implement the plan.

The Plan includes a set of 49 consensus options for reducing the State's GHG emissons (The Final Phase I Action Plan is available for download (body, 1mb PDF) (appendices, 2mb PDF)). Since September 2002, the Stakeholders have been developing the highest-priority programs for implementation.

In March of 2005, the U.S. EPA recognized the Rhode Island Greenhouse Gas Stakeholders for their 'exceptional contributions to global environmental protection' in bestowing upon them its coveted 2005 Climate Protection Award.

RI GHG is comprised of many different members. The process is guided by a stakeholder committee and utilizes topical working groups. The initiative makes use of detailed modeling to enhance the applicability of the findings and numerous framing papers and other documents. Click here for the full schedule for each of the groups. Click here for a map of the office complex where the meetings are located.